There were some factual missteps in several nominating speeches by lawmakers as Rep. Kevin McCarthy repeatedly fell short of the votes needed to become speaker of the House on Jan. 3 and 4.
We found that Republican Reps. Jim Jordan, Steve Scalise, Kat Cammack and Scott Perry made false and misleading statements on inflation, energy, fentanyl and Frederick Douglass over the many votes held at the start of the 118th Congress. Rep. Mariannette Miller-Meeks also repeated a talking point on the IRS in a related press conference.
Inflation Not a Record
In his nomination speech for McCarthy, Jordan wrongly said that in "two years' time" the Democrats were responsible, among other things, for "record inflation."
Inflation has been high, but the modern-day record was set in 1980.
It is true that inflation under Biden has been the highest in decades. The 12 months ending in June saw a 9% increase in the Consumer Price Index for all items (before seasonal adjustment). That was the largest 12-month increase under Biden and the biggest increase since the 9.6% rise in consumer prices for the 12 months ending in November 1981, according to the Bureau of Labor Statistics.
But inflation was even higher in the 33 months prior to November 1981. During that stretch, the biggest 12-month increase occurred in March and April 1980, when consumer prices climbed 14.6% in back-to-back months. Those are the largest 12-month increases on record, dating to 1948.
Also, as we have written, there are many reasons for high inflation in the United States — including the rippling economic effects of a global pandemic, Russia's invasion of Ukraine and the impact of COVID-19 relief packages enacted under both Biden and his predecessor, Donald Trump.
U.S. Produces More Energy Than It Consumes
In 2019, the U.S. began producing more energy than it consumed for the first time since 1957, and that has continued under President Joe Biden, according to the Energy Information Administration. Yet, Republican Rep. Steve Scalise claimed that Biden "shut down American energy," creating "energy insecurity."
In his speech nominating McCarthy for the third ballot, Scalise added: "There's absolutely no reason that we need to rely on foreign countries to produce our energy. We could produce it all here."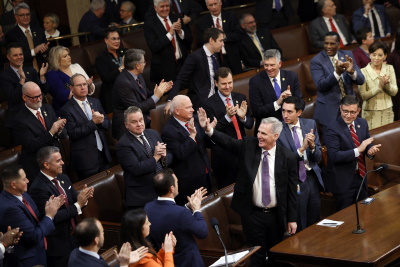 But, as we've explained before, despite the fact that the U.S. is producing more energy overall than it is consuming, the country still imports energy. And some analysts say it's unlikely the U.S. could consume only energy it produces, at least "for the foreseeable future," as an analyst for the firm VettaFi wrote in 2019. One reason is that U.S. refiners need heavier crude oil than the light crude mostly produced from U.S. shale.
Republicans have been critical of some Biden policies. For instance, shortly after taking office, Biden issued an executive order to pause new oil and natural gas leasing of federal land and water, a move that was later blocked by the courts, and he canceled the Keystone XL pipeline.
But after banning new imports of Russian oil last year in response to Russia's invasion of Ukraine, Biden began calling on U.S. companies to produce more. U.S. crude oil production fell in 2020 during the COVID-19 pandemic, as oil prices cratered. Experts told us last year that it would take some time for the domestic supply to increase.
In 2019, the U.S. produced 12.3 million barrels of crude oil per day, a figure that dropped to 11.3 million in 2020 and stayed at about that level for 2021, according to the EIA. But the EIA's Short-Term Energy Outlook published in December estimates the U.S. produced 11.9 million barrels of crude oil per day in 2022 and will produce 12.3 million per day this year.
Most Smuggled Fentanyl Comes Through Legal Ports of Entry
Scalise also claimed, "Last year alone, we lost over 100,000 young people to deaths from drugs like fentanyl because we have an open southern border."
The following day, in her speech nominating McCarthy, Rep. Kat Cammack said that "as we stood on this House floor yesterday and again today, over 200 people were poisoned from fentanyl … that came from an open border because of the Biden open border policy."
Their claims distort the facts.
Nearly 107,000 people died of drug overdoses in 2021 and about 55% were under the age of 45, according to the National Center for Health Statistics. The majority of overdose deaths were caused by synthetic opioids, primarily fentanyl, which is a drug many times stronger than morphine and heroin.
But Scalise's and Cammack's statements could give the false impression that most of the illicit fentanyl coming into the U.S. is due to illegal immigration along the U.S.-Mexico border. As we have written, the vast majority of smuggled fentanyl is discovered during vehicle inspections at ports of entry, where people legally enter the country. Much smaller amounts are found by border agents at interior checkpoints and during apprehensions of people who illegally cross between the legal ports.
"Over 90 percent of fentanyl seizures occur at legal crossing points or interior vehicle checkpoints, not on illegal migration routes," David J. Bier, associate director of immigration studies at the libertarian Cato Institute, wrote in September. He said fentanyl, which is potent in very small amounts, is smuggled through official entry ports because government estimates indicate that "it is easier to conceal it on a legal traveler or in legal goods than it is to conceal a person crossing the border illegally."
Furthermore, drug cartels often use Americans to smuggle drugs into the country.
"In 2021, U.S. citizens were 86.3 percent of convicted fentanyl drug traffickers — ten times greater than convictions of illegal immigrants for the same offense," Bier wrote. Americans also accounted for over 80% of convictions in fiscal years 2018, 2019 and 2020.
A Different GOP in Frederick Douglass' Time
In a speech nominating Rep. Byron Donalds to be the speaker, Perry noted that if elected, Donalds would be the first Black Republican to hold the position.
Perry then went on to note that the first Black members to serve in the House were Republicans, as was abolitionist leader Frederick Douglass.
"As a matter of fact, you probably also know that Frederick Douglass, who went and worked with Abraham Lincoln to emancipate the people of color in this country, said he would never be anything but a Republican," Perry boasted.
It's true that Douglass was a Republican, the party of Lincoln, and that Douglass saw Republicans as the champions for full emancipation of Black people and the right to vote. CNN noted that at the 1888 GOP convention, Douglass was the first Black American to receive a vote for president at a major party's convention.
But the Democratic and Republican parties were quite different in the mid- to late 1800s. A 2015 opinion piece penned by Harvard professors Henry Louis Gates Jr. and John Stauffer for the Washington Post sought to dispel several popular myths about Douglass, including the idea that Douglass "would fit in with today's GOP."
"During the Civil War, Douglass became a Republican and remained a devoted member of the party for the rest of his life," Gates and Stauffer wrote. "At the time, the GOP — the party of Lincoln and Charles Sumner — consistently received enormous support from black voters and advocated a strong central government and certain entitlements for the underprivileged. In other words, it bears little resemblance to today's Republican Party."
David Blight, an American history professor at Yale University and author of "Frederick Douglass: Prophet of Freedom," told us via email that Perry's statement about Douglass is "an appalling, ignorant, and utter misuse of history."
"Many Republicans have done this for years despite the fact that Douglass, were he alive, would today denounce virtually everything Republicans stand for," Blight said. "They have not been a party [Douglass] would support for at least 60 to 70 years."
IRS Talking Point
In a Jan. 4 Republican news conference on the speaker election, Rep. Mariannette Miller-Meeks repeated a very popular GOP talking point that made our list of whoppers of 2022. Miller-Meeks said that the 20 lawmakers who had opposed McCarthy needed to vote for him "to allow us to pass a bill that would defund 87,000 IRS agents who are going after small businesses and average Americans." That's not what's happening.
The 87,000 figure refers to the number of employees the IRS could hire with funding that was part of the Democrats' Inflation Reduction Act, which became law in August. However, most of the hires would replace IRS employees who would retire or leave, and most of the new positions would be in customer service, the Treasury Department told us.
It's true that some employees would be tax enforcers, but they would be tasked with auditing wealthy individuals and corporations, not "average Americans," administration officials have said.
---
Editor's note: FactCheck.org does not accept advertising. We rely on grants and individual donations from people like you. Please consider a donation. Credit card donations may be made through our "Donate" page. If you prefer to give by check, send to: FactCheck.org, Annenberg Public Policy Center, 202 S. 36th St., Philadelphia, PA 19104.