SciCheck Digest
Thai officials attributed the collapse of the king's eldest daughter in December to a bacterial infection, not to COVID-19 vaccination, as some have baselessly claimed online. Rumors about the country banning Pfizer's vaccines are also "fake news," officials said.
Full Story
Thailand's Princess Bajrakitiyabha, the eldest of the king's three children and a potential heir to the throne, collapsed on Dec. 14 while training her dogs for a competition. On Jan. 7, a palace statement said the 44-year-old princess fell into a coma due to a severe arrhythmia, or irregular heartbeat, caused by heart inflammation following a mycoplasma infection.
Mycoplasma is a kind of bacteria that typically affects the lungs, skin or urinary tract, depending on the species responsible for an infection. Most infections are mild, but some can be severe and even fatal. Mycoplasma pneumoniae, for instance, is a common cause of pneumonia, but in rare cases it can spread to other parts of the body, including the heart. Because these bacteria have no cell walls, like most bacteria do, some antibiotics won't work against them.
The Royal Household Bureau has released three statements about Princess Bajrakitiyabha since her collapse. In the most recent one, from more than a month ago, authorities said the princess remained unconscious and that she was receiving antibiotics and heart, lung, and kidney support.
Despite no mention of COVID-19 vaccination, online articles and social media posts have baselessly claimed that the princess's condition was caused by a COVID-19 vaccine and that Thai officials were banning Pfizer's shots.
"Thailand to BAN Pfizer After Thai Princess Falls Into a Coma Following Booster Jab," reads one Feb. 5 headline from a dubious website.
The claims stem from an interview, widely shared online by anti-vaccine activists, with a retired Thai-German microbiologist named Sucharit Bhakdi. Bhakdi, who has spread misinformation about COVID-19 and the vaccines before, claimed without evidence that the princess collapsed 23 days after a booster. He also said, incorrectly, that a bacterial infection "would never do what she's suffering from," and called the diagnosis "so ridiculous."
Half an hour into the interview, Bhakdi said the vaccine was "deadly" and suggested that Thailand was going to cancel its vaccine contract with Pfizer/BioNTech.
There is no support for these claims. The Pfizer/BioNTech vaccine has been shown to be remarkably safe, both in clinical trials and in subsequent safety surveillance studies. The royal family has not released the princess's vaccine status, and there's no evidence that she received a booster before falling into a coma. The claims have also been fact-checked by the Associated Press, Snopes and Lead Stories.
Thailand's Department of Disease Control publicly denied the claim about the country no longer offering the Pfizer/BioNTech vaccine on Feb. 2 in a Facebook post that included a screenshot of Bhakdi's interview with the warning, "FAKE NEWS DO NOT SHARE!"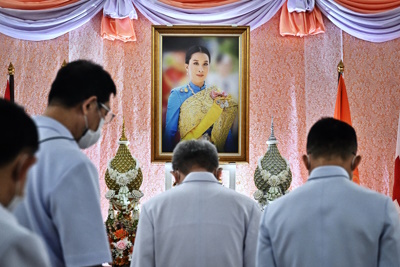 "The Department of Disease Control, the Ministry of Health, has fact checked and found the issue to be false information. The public is requested not to be fooled and ask for cooperation not to send or share such information on various social media channels," the post reads, according to a translation by Facebook.
A Pfizer representative told us in a statement that Thailand's health authorities continue "to recommend vaccination with the Pfizer-BioNTech COVID-19 vaccine for all authorized ages and indications."
"With hundreds of millions of doses of the original and Omicron BA.4/BA.5-adapted bivalent Pfizer-BioNTech COVID-19 vaccine administered globally, the benefit-risk profile of our vaccines remains positive for all authorized indications and age groups," the company added.
Bhakdi told the AP in a Feb. 7 story that some online claims had been exaggerated, but that he had spoken with the "highest-ranking advisors to the government and Royal Family" about ending Pfizer's contract and he hoped "there will be things to report in about 2 weeks."
An official with Thailand's National Vaccine Institute, however, confirmed to the AP that the nation was not planning to terminate any COVID-19 vaccine contracts.
"There are no orders to stop or slow down usage or reconsider its use," the official said of the Pfizer/BioNTech vaccine. "We are still moving forward and using it."
Because the COVID-19 vaccines do not contain bacteria, there is no reason to think that the vaccines could cause mycoplasma infections, nor is there any indication vaccination could make someone more susceptible to them. The Centers for Disease Control and Prevention has not reported an association between mycoplasma infections and COVID-19 vaccines.
Dr. Peter J. Hotez, dean of the National School of Tropical Medicine at Baylor College of Medicine in Houston, Texas, told us he is not aware of any association either.
"There's no relationship with the Covid vaccine and mycoplasma infections," Dr. Amesh Adalja, an infectious disease expert and a senior scholar at the Johns Hopkins Center for Health Security, told us in an email. "However, mycoplasma is a very well established cause of cardiac infection. It can cause myocarditis and pericarditis," he added, referring to inflammation of the heart muscle and the surrounding tissue.
Contrary to Bhakdi's comments, mycoplasma infections may be severe and life-threatening, although it's rare. According to a 2018 study, on top of the pulmonary symptoms, Mycoplasma pneumoniae infections can also involve other organs, such as the heart. "Cardiac symptoms are uncommon" the study says, but can include heart inflammation and arrhythmias.
There is evidence that the Pfizer/BioNTech COVID-19 vaccine may rarely cause myocarditis and pericarditis. But most of those rare cases happen in young males, after a second dose. The conditions can also occur with COVID-19, and evidence suggests those cases are more severe. To date, the benefits of the vaccine outweigh the risks in all populations.
There are reports of patients being coinfected with COVID-19 and Mycoplasma pneumoniae, although it's rare and the impact on the severity of having both illnesses together is still unknown.
Thailand's king and queen tested positive for COVID-19 on Dec. 17, three days after their daughter collapsed, but there is no public information regarding the princess's COVID-19 status.
Editor's note: SciCheck's articles correcting health misinformation are made possible by a grant from the Robert Wood Johnson Foundation. The foundation has no control over FactCheck.org's editorial decisions, and the views expressed in our articles do not necessarily reflect the views of the foundation.
Sources
"Thai princess collapses from heart condition, palace says." BBC. 15 Dec 2022.
Statements/Announcements of the Bureau of the Royal Household. Thailand Royal Office website.
Mycoplasma Infections. WebMD. 28 Mar 2020.
Mycoplasma pneumoniae Infections. CDC. 24 Aug 2022.
Bajantri, Bharat, et al. "Mycoplasma pneumoniae: A Potentially Severe Infection." Journal of Clinical Medicine Research. 4 Jun 2018.
Izumikawa, Koichi. "Clinical Features of Severe or Fatal Mycoplasma pneumoniae Pneumonia." Frontiers in Microbiology. 1 Jun 2016.
Funke, Daniel. "Fact check: COVID-19 vaccines don't cause death, won't decimate world's population." USA Today. 30 Apr 2021.
Carballo-Carbajal, Iria. "Unsubstantiated claims by Michael Palmer and Sucharit Bhakdi don't demonstrate that COVID-19 vaccines harm organs." Health Feedback. 29 Aug 2022.
McDonald, Jessica. "A Guide to Pfizer/BioNTech's COVID-19 Vaccine." FactCheck.org. Updated 27 Sep 2022.
Marcello, Philip. "Thai official: No plans to void Pfizer COVID vaccine contract." AP. 7 Feb 2023.
Kasprak, Alex. "Is Thailand Banning the Pfizer Vaccine After Princess Bajrakitiyabha Fell Into Coma?." Snopes. 7 Feb 2023.
Dapcevich, Madison. "Fact Check: Thailand Does NOT Plan To 'Nullify' Pfizer-BioNTech Contracts — NO Evidence COVID-19 Vaccination Caused Thai Princess' Collapse." Lead Stories. 7 Feb 2023.
Thailand Department of Disease Control Facebook Page. Post. 2 Feb 2023.
Selected Adverse Events Reported after COVID-19 Vaccination. CDC. Updated 6 Feb 2023.
Possible Side Effects After Getting a COVID-19 Vaccine. CDC. Updated 14 Sept 2022.
Hotez, Peter J. Dean of the National School of Tropical Medicine at Baylor College of Medicine in Houston, Texas. Email sent to FactCheck.org. 9 Feb 2023.
Adalja, Amesh. Infectious disease expert and a senior scholar at the Johns Hopkins Center for Health Security. Email sent to FactCheck.org. 9 Feb 2023.
Jaramillo, Catalina. "Benefits of COVID-19 Vaccination Outweigh the Rare Risk of Myocarditis, Even in Young Males." FactCheck.org. Updated 5 Apr 2022.
Zha, Lei, et al. "Clinical features and outcomes of adult COVID-19 patients co-infected with Mycoplasma pneumoniae." Journal of Infection. Sep 2022.
Block, Jason P., et al. "Cardiac Complications After SARS-CoV-2 Infection and mRNA COVID-19 Vaccination — PCORnet, United States, January 2021–January 2022." MMWR. 1 Apr 2022.
"Thailand's king, queen test positive for COVID-19." AP. 17 Dec 2022.